In December, 2012, Sparrows Point Steel Mill and its Communities were honored with a Maryland Traditions Achievement in Living Traditions and Arts (ALTA) Award as a vital 'place' of enduring importance in the industrial heritage and story of Maryland. For 125 years, tens of thousands of steel workers and associated personnel have known Sparrows Point Steel Mill (Baltimore County) not only as a place of employment, but as the center of community life, with special importance in the company towns of Dundalk and Sparrows Point. Created by the Pennsylvania Steel Company in 1887, and taken over by Bethlehem Steel in 1916, the mill became the world's largest center for producing steel – evident in the girders of the Golden Gate, George Washington, and Bay Bridges – and for shipbuilding. As a key production site during both World Wars, Sparrows Point peaked during the 1960s and saw a gradual decline in the decades that followed. Nonetheless, this is a story that lives on and, most importantly, needs to be told by those who know it best.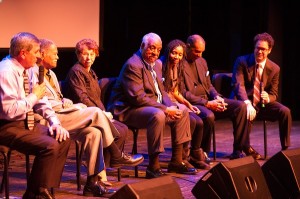 Though today it faces permanent closure, the mill remains a significant place that grounds a living heritage amongst former workers and community members, as well as a site that is deeply associated with a constellation of collective and personal memories. In early 2013, Maryland Traditions, represented at UMBC by Michelle Stefano, teamed up with Bill Shewbridge, Director of UMBC's New Media Studio, to set out to conduct fieldwork and document Sparrows Point's importance to its communities. As part of this long term project, Bill and Michelle made the focus of their respective spring 2013 courses the Sparrows Point communities so that students can learn about the Mill's history, current issues and, indeed, its enduring significance. Students were involved with interviewing former Sparrows Point workers and community members, documenting their memories, as well as producing the digital stories showcased on this website.
Above all, we have sought to amplify the voices and stories of Sparrows Point in partnership with community members, and to help safeguard the heritage and living memories of the Mill and its surrounding areas. We could not have made this partnership happen without the support and time of those community members represented here, the United Steel Workers Local 9477, the Dundalk-Patapsco Neck Historical Society, William Barry, Deborah Rudacille, Louis Diggs, Elmer Hall, Director of Maryland Traditions, Clifford Murphy, and the BreakingGround initiative at UMBC.
As noted, this is an ongoing project. It is our aim that a longer documentary film will be produced. If you would like to share your stories and memories of Sparrows Point, please contact Michelle Stefano: mstefano@msac.org and/or Bill Shewbridge: shewbrid@umbc.edu
Maryland Traditions is a collaborative statewide folklife partnership program of the Maryland State Arts Council with support from the National Endowment for the Arts, designed to create a lasting infrastructure for the documentation, promotion and celebration of traditional culture in Maryland. For more information, please visit http://www.msac.org
The New Media Studio at UMBC helps the campus community apply emerging media technologies in teaching, learning and creative endeavors. The Studio conducts ongoing research and evaluation of new media technologies, serving as a collaborative environment, bringing together faculty from various disciplines to work on technology-intensive projects. Please visit http://nms.umbc.edu
BreakingGround at UMBC is an initiative that is at the forefront of a vibrant, new movement toward increased campus and community engagement—a movement that is now gaining ground nationally. To learn more, please visit http://umbcbreakingground.wordpress.com/